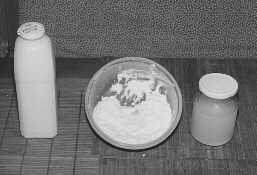 Milk, homemade cream cheese and whey
Then we pour the mixture from the jar into the strainer. Several hours later there is only cream cheese in the towel. In the pot there is whey. We can once more inoculate milk with the whey.
(My wife Christine helped me to translate the text. Thanks.)
Please also read
Finds 11
Finds 14
Finds 15
Encounters 6
Signs of Upheaval (5)
Please also read Charlie Dittmeier's diary entry of
July 7 2005
about a family of tree trimmers, who found wild honey in a tree on the grounds of a hospital in Phnom Penh.The link leads to the latest entry of the diary. Please scroll down.
Also worth to read: The Regional Office No. 10 of the Philippine Department of Science and Technology has published
instructions
for producing yogurt, because yogurt can also be a good source of income.
The international poster organisation Loesje has started a
project
to train young people from all over Europe and Asia in how to organise and coordinate information campaigns about the Millennium Development Goals. These goals are set by the United Nations to fight poverty and to improve living standards world wide.
Next issue 'The Daily Groove'
on Thursday, September 20 2007.
I am working on a detailed report.

&lt
previous issue
next issue
&gt
We would like to point out that we translated articles from German into English for the purpose of service. We would like to make it clear that the German translations are deciding, because the articles are directed to users who live in Germany.
Wir möchten darauf hinweisen, dass wir zu Servicezwecken englische Übersetzungen vorgenommen haben. Klarstellen möchten wir, dass maßgeblich die deutsche Übersetzung ist. Grund dessen ist, dass wir uns an in Deutschland ansässige Nutzer wenden.
Please also read
Cats Talk (35)