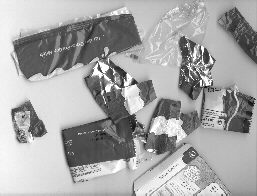 Packaging trash (positive picture)
The strip was probably a symbol of milk, because the box had the symbol '+' and the word 'milk' printed on the front. The word 'children' was printed on the white strip. The small bars were filled with a white cream. They tasted quite sweet.
So I took a look at the list of ingredients on the box .Two general statements came before the list of ingredients. 'Total percentage of milk constituents in the product 33%, total percentage of cocoa dry matter in the product 13%' This statement was followed by a detailled list of ingredients: 'milk chocolate 40% (sugar, full cream milk powder, cocoa butter, cocoa liquor, emulsifying agent soya lecithin, vanillin), sugar, low-fat milk powder, vegetable fat, butter oil, emulsifying agent soya lecithin, vanillin'
This is a remarkable list. The first ingredient is 'milk chocolate', though the milk chocolate in itself has been made up of a lot of ingredients. Those ingredients are listed in brackets. The quantitatively most important ingredient is sugar. After the bracket the other ingredients of the product are listed. The quantitatively most important ingredient is again sugar. This way 'milk chocolate' is the first word of the list, though 'sugar' is the quantitatively most important ingredient of the product.
On the box there was a photograph of an about ten-year-old boy. He had done his hair with gel. He was beaming all over his face. The tooth of his upper jaw were immaculately white.
(I translated the technical terms of food chemistry to the best of my knowledge and belief, but I can't make any guarantees. My wife Christine helped me to translate the text. Thanks.)
(to be continued)
Please read also:
Finds (11)
Signs of Upheaval 2
Finds (15)
Slogans (20)
Signs of Upheaval 4
Slogans (24)
Subtle Fright 2
Next issue 'The Daily Groove'
Thursday, August 10 2006

&lt
previous issue
next issue
&gt
We would like to point out that we translated articles from German into English for the purpose of service. We would like to make it clear that the German translations are deciding, because the articles are directed to users who live in Germany.
Wir möchten darauf hinweisen, dass wir zu Servicezwecken englische Übersetzungen vorgenommen haben. Klarstellen möchten wir, dass maßgeblich die deutsche Übersetzung ist. Grund dessen ist, dass wir uns an in Deutschland ansässige Nutzer wenden.
Please also read
Cats Talk (31)