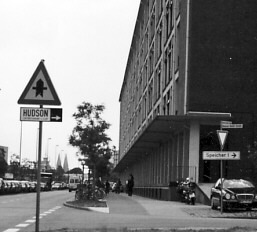 From the end of the store house one can see the cathedral in the distance.
The dishes on the lunch menu I could perhaps afford once or twice a year, the dishes on the supper menu were absolutely unaffordable for me.
At last I roamed the corridors of the warehouse for a little while. I even rang at some or other door. I saw that occasionally a firm shared an office area with another firm. In the corridors I mostly met young people, who usally looked like students, even when they worked for advertising agencies or photo studios. They were kind and open-minded.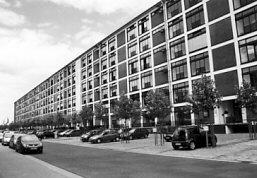 Overlook over (almost) the entire store house
So I got to know some details. For example I was told, that there was a bureau belonging to a firms network, which sold technical aids supporting disabled persons in, among other things, communication and using the computer. A young employee of this bureau trusted even a big catalogue into my hand. Back at home, to my surprise I read that there were machines which enable people with bad speech defects to communicate with others in a subtly differentiated manner.
(My wife Christine helped me to translate the text. Thanks.)
Please also read
Places 17
Please also read Charlie Dittmeier's
article
about the Internet coming to remote areas of Cambodia. The article is dated 13 February 2004. The link leads to the latest entry of the diary. Please scroll down if necessary.
The international poster organisation Loesje has started a
project
to train young people from all over Europe and Asia in how to organise and coordinate information campaigns about the Millennium Development Goals. These goals are set by the United Nations to fight poverty and to improve living standards world wide.
Next issue 'The Daily Groove'
on Sunday, August 31 2008


&lt
previous issue
next issue
&gt
We would like to point out that we translated articles from German into English for the purpose of service. We would like to make it clear that the German translations are deciding, because the articles are directed to users who live in Germany.
Wir möchten darauf hinweisen, dass wir zu Servicezwecken englische Übersetzungen vorgenommen haben. Klarstellen möchten wir, dass maßgeblich die deutsche Übersetzung ist. Grund dessen ist, dass wir uns an in Deutschland ansässige Nutzer wenden.
Please also read
Cats Talk (39)