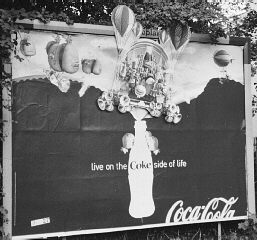 A loud advertising poster of a brown lemonade.
Those characters were reduced to drinking beings. Three of those characters sucked at the contour of a bottle which is below the platform.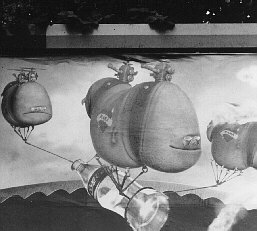 The three helicopter beings were transporting an empty bottle of the brown lemonade.
The three helicopter beings, which were at the top left of the poster, were reduced in a similar way. Their bodies looked like sausages. At the end of the sausage were a thin mouth and glasses. You could hardly make out the eyes behind the glasses. At the other end of the sausage was a minute tail. Behind the tail and behind the head were rotors which had been fixed onto the body by means of straps.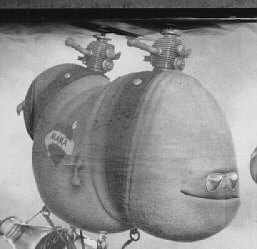 The bodies of the helicopter beings had atrophied extremities.
The heliscopter beings had no legs, only tiny arms. Instead of legs there were eyes to which rope had been fastened. By means of the rope the three helicopter beings were transporting an empty bottle of the brown lemonade. On two bodies you could see a kind of tattoo. The tattoo was a red heart which had been pierced by an arrow. The heart was surrounded by a banner with the writing 'MAMA' (MUMMY).
The slogan, under which the poster was sailing, read 'live on the (brand name of the lemonade) side of life'. What would happen if those charakters invaded the real world and energetically spread their slogan? Would the world turn into an everlasting children's birthday?
(My wife Christine helped me to translate the text. Thanks.)
(to be continued)
Please read also
Finds (14)
Please learn from
the entry of Dezember 16 2002
in Charlie Dittmeier's 'Daily life in Cambodia', what are bottles of the brown lemonade sometimes like in Cambodia.The link leads to the latest entry of the diary. Please scroll down.
Next issue 'The Daily Groove'
on Thursday, December 7 2006

&lt
previous issue
next issue
&gt
We would like to point out that we translated articles from German into English for the purpose of service. We would like to make it clear that the German translations are deciding, because the articles are directed to users who live in Germany.
Wir möchten darauf hinweisen, dass wir zu Servicezwecken englische Übersetzungen vorgenommen haben. Klarstellen möchten wir, dass maßgeblich die deutsche Übersetzung ist. Grund dessen ist, dass wir uns an in Deutschland ansässige Nutzer wenden.
Please also read
Cats Talk (32)