alienus (.... in the true sense 'belonging to an other person') I. strange; ...1. not related, not close to; noun a stranger; 2. foreign. II. metaphorical 1. disinclined, hostile, moody 2. reluctant, inappropriate; 3. inconvenient, unfavourable, disadvantageous.

From: The small Stowasser, Latin-German dictionary

I am coming from above, from heavens.
I'll tell you good news, ...

Christmas carol by Martin Luther (1535)


On Christmas Eve people celebrate the feast of the birth of Jesus Christ. It's a feast of love and peace. Three days before Christmas Eve I saw a poster, which was an advertising for a TV program. There was a conspicuous slogan on the poster. The slogan ran 'Advent sunday, Advent sunday, an alien is runnig away'. The slogan was a corruption of a harmless nursery rhyme. The rough translation of the nursery rhyme is 'On the first Sunday of Advent one candle is on.' The English word 'alien' is also a common foreign word for 'being from outer space' in Germany.

On the poster there was a place on the top of a snowy mountain. On the left were two men, who wore black suits, ties and sunglasses. One man was light-skinned, the other one was swarthy. The light-skinned man held big gleaming weapon, the swarthy man had pulled out a little ray gun.

To the right side of the men in black was a sleigh. On the sleigh were presents. Two stags were the draught animals. Father Christmas held the reins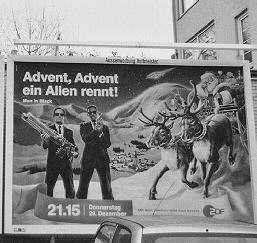 There was also another passenger. A naked green little being held onto the antlers of the stags. The being was a strange mixture of a gnome, a frog and an insect. It held a mug in its hands. A dark liquid, perhaps coffee, was in the mag. The liquid spilt. The mouth of the being was wide open.
In the background was a valley. In the valley was a little village. The windows of the houses were illuminated. In front of the church was a Christmas tree.Behind the village were snowy mountains again. An UFO was floating above a mountain.
(My wife Christine helped me to translate the text. Thanks.)
(to be continued)
Advent 1
(in German only)
Advent 2
(in German only)
Advent 4
Advent 5
The next issue 'The Daily Groove'
for health reasons not before
Friday, February 3 2006
I'm very sorry. A new detailed issue about daily food is almost finished.
&lt
previous issue
next issue
&gt
We would like to point out that we translated articles from German into English for the purpose of service. We would like to make it clear that the German translations are deciding, because the articles are directed to users who live in Germany.
Wir möchten darauf hinweisen, dass wir zu Servicezwecken englische Übersetzungen vorgenommen haben. Klarstellen möchten wir, dass maßgeblich die deutsche Übersetzung ist. Grund dessen ist, dass wir uns an in Deutschland ansässige Nutzer wenden.
Please also read
Cats Talk (28)
place marker for advertisement


&nbsp