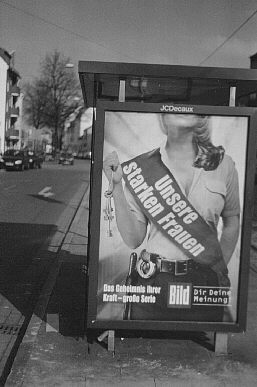 The poster I found at a bus stop
Those roles are up to now in some cases (prison officer, businessman) a sphere of men. The power of the women was symbolized only by their regalia (keys, truncheon, handcuffs, laptop, babies). The posters weren't portraits of real powerful women. They only announced that the popular newspaper would have articles about powerful women.
A few days later I found a headline in a TV guide 'TV is getting more and more female' There was a subline as follows 'lady superintendent, lady doctor, lady lawyer - there haven't been so many powerful women on the air ever before'.
(My wife Christine helped me to translate the text. Thanks.)
(to be continued)
Slogans 18
Visit to a family in Phnom Penh. Please have a look at 'Daily life in Cambodia 2000 - 2001', entry
October 21 2000
The link leads to the latest entry of the diary.
The next issue 'The Daily Groove'
Saturday, May 27 2006

&lt
previous issue
next issue
&gt
We would like to point out that we translated articles from German into English for the purpose of service. We would like to make it clear that the German translations are deciding, because the articles are directed to users who live in Germany.
Wir möchten darauf hinweisen, dass wir zu Servicezwecken englische Übersetzungen vorgenommen haben. Klarstellen möchten wir, dass maßgeblich die deutsche Übersetzung ist. Grund dessen ist, dass wir uns an in Deutschland ansässige Nutzer wenden.
Please also read
Cats Talk (30)