...but one must be able to Breathe!
A.A. Milne: The House at Pooh Corner
We live in a little terraced housing estate, which is called 'Little Mexico' in common parlance . The little houses were built in 1927 as a solid reception camp for homeless and poor families. None of that families probably had a car. The planners didn't design the narrow roads as roads for cars.
Nowadays parking cars take up one third of the road and one third of the narrow pavement. The parking cars are lifeless things. They are more anonymous and more faceless than the houses. I know what's my neighbours house, but I don't know what's his car.
Around the shining car bodies there is an unvisable prohibited zone. Cars are also status symbols. One is not allowed to damage those status symbols. The parking cars with their prohibited zone finallay take up half the road.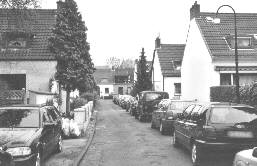 This road is normally above all place to park.
But they not only take up half the street, they also often take up niches, which are neither road nor pavement.
The parking cars are a barrier, which reduces the visibility.