Today Bremen represents a forward-looking urban landscape ...
Touristic office of Bremen: Everything at a glance, Bremen 2003

August 24 2005
I visited the housing area 'Wohlers Eichen' in the suburb of Bremen-Oslebshausen. This housing area is a huge extensive precipitous mountain range made of concrete. It looks like a huge castle.The staircases remind one of castelled watch towers. By my count there are 16 house numbers. Each house number maximally comprises 16 flats. The housing area totally comprises about 250 flats.

In the front part of the castle is a gate. There are house numbers above the gate. When you pass through the gate and turn to the left, you will find the house numbers from 30 up to 39.When you turn to the right, you will find the house numbers from 39 up to 59.

I visited the housing area in fine weather. I passed the numerous entrances. Many doorplates were broken. A lot of children played in front of the entrances or on the playground. A lot of people, who came and went, were foreigners. Loud melancholy Middle Eastern music could be heard out of a window.

When I looked more carefully, I saw that a quite great number of flats seemed to be empty. I approached two tenants on informations. They confirmed my observations.

There were two small shops opposite to the gate. One of them was shut up. I entered the other one. There were sweets and soft drinks in the shelves. The men in the shop obviously had their origins in the Middle East. I inquired about the shop, which was empty. They told me that there had been a cyber cafe and callboxes under management of a small private firm.

The men told me that many tenants very soon moved out of the housing area. There were numerous large families. Most of them had no car. There were nearby no good opportunities to make purchases. Those large families had difficulty to get their shopping home.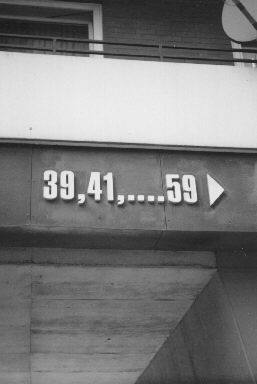 House numbers above the gate of the housing area
There was a constant background noise of metallic sounds, while I stayed at the housing area. On the way home I saw that there were docks and track systems behind the housing area.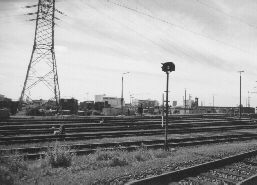 There were docks and track systems behind the housing area.
August 30 2005
I set off again to visit the housing area. Just before I got to 'Wohlers Eichen', I had to pass a long street. At this street there were several small houses which were similar to the houses of my street. Two elderly women were in front of a house and talked together.
I got talking to them. One of the women thought back to the seventies, when the housing area 'Wohlers Eichen' had been built. At that time the flats had been kept very well. She had considered to retire to 'Wohlers Eichen'.
After I had crossed the gate of the housing area, I stumbled on an about thirty-year-old man with a two-year-old girl. He is a Kosovar Albanian. He told me that he lived here for two years, that the living space of his flat was 75 square metres and that the rent including heating amounted to about 500 Euro. He complained that he always had to pay additional payment.
please read also
Writing for the web (16)
&lt
previous issue
Please also read
Cats Talk (28)
place marker for advertisement


&nbsp