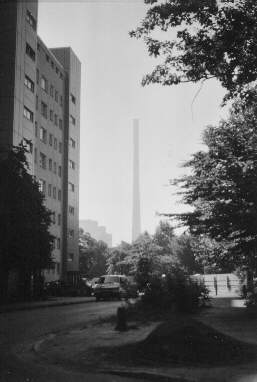 In the neighbourhood of the housing area is a power station.
I rode up the open-air parking level, which was opposite to the front of the concrete castle. The huge area was almost empty. A family got some things out of their car. They said, 'We live in the housing area for twenty years. We are contented with our flat.'
I left the parking level over a ramp. At the foot of the ramp I again met the boy. He complained that he couldn't enter his flat because his mother, her friend and his elder sister only had a key. He had repeatedly rung up at home, but no one had answered the phone.
I returned to the playground. Mr. R., a voluntary worker of the playhouse, told me that he did youth work for a long time and that he was present at the holiday trips for the children, which the team of the playhouse had arranged. He told me something about the institution. There are two full-time persons in charge and two voluntary workers belong to the playhouse. It is open from 1 pm to 7pm. The target group are mainly children up to 13 years. Activities like cooking, baking and handicrafts are possible. Once a week the children can do sports in the neighbouring gym. The house is open during all holidays. There is a looked after play group for toddlers and their mothers, that means that small children up to 3 years and their mothers play and do handicrafts twice a week in the morning.
The voluntary worker I met also has a social full-time job. He looks after youth offenders and their victims. He has to look after young people also in the housing area. Young Russian offenders are often problem cases. In their families are often problems of violence. He told me that a cop of the police station Oslebshausen, Mr. S., had helped very much to solve those problems of violence and that he was held in great esteem, because he got on very well with the young people.
I slowly rode home. I met a cop, who patroled by bike. He complained that he would have to stay at the police station one day a week as a result of new rules. He said that he would have to take down charges of citizens on a given day of the week. He complained that he would have less time for patrol rounds.
(My wife Christine helped me to translate the text. Thanks.)
please read also
Writing for the web (16)
Encounters 8
A poor-people area in Phom Phen
Entry of an internet diary
on
November 7 2005
.
The link leads to the latest
entry of the diary.
Next issue 'The Daily Groove':
Friday, October 21 2005
&lt
previous issue
next issue
&gt
We would like to point out that we translated articles from German into English for the purpose of service. We would like to make it clear that the German translations are deciding, because the articles are directed to users who live in Germany.
Wir möchten darauf hinweisen, dass wir zu Servicezwecken englische Übersetzungen vorgenommen haben. Klarstellen möchten wir, dass maßgeblich die deutsche Übersetzung ist. Grund dessen ist, dass wir uns an in Deutschland ansässige Nutzer wenden.
Please also read
Cats Talk (28)