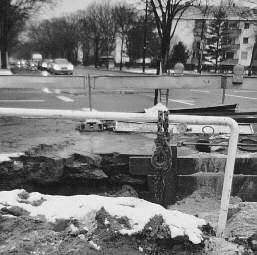 A look at the newly excaveted hole, the asphalt surface was about 30 centimetres thick.
The water supply is organized like a wide network. If a section doesn't work, in the majority of cases the water will be by-passed through sections which are in good working order. This way the consumers mostly get water in spite of a failure.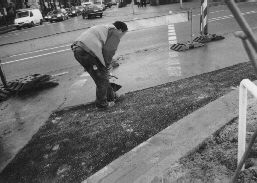 A roadworker poured the liquid in the gap between the road surface and the 'patch'
Then he poured the liquid in the gap between the road surface and the 'patch'. A few hours later the road blocks were cleared away. The work was finished.
(My wife Christine helped me to translate the text. Thanks.)
Revisited places (16)
Failures (2)
Building workers at a construction site in Cambodia take water for drinking, cooking and washing out of a 55-gallon drum. Please have a look at 'Daily life in Cambodia 2005', entry
November 28 2005
The link leads to the latest entry of the diary.
The next issue 'The Daily Groove'
Thursday, March 2 2006

&lt
previous issue
next issue
&gt
We would like to point out that we translated articles from German into English for the purpose of service. We would like to make it clear that the German translations are deciding, because the articles are directed to users who live in Germany.
Wir möchten darauf hinweisen, dass wir zu Servicezwecken englische Übersetzungen vorgenommen haben. Klarstellen möchten wir, dass maßgeblich die deutsche Übersetzung ist. Grund dessen ist, dass wir uns an in Deutschland ansässige Nutzer wenden.
Please also read
Cats Talk (29)