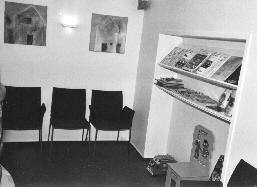 A waiting room
One of them told the other 'I put the face of X out of joint yesterday. His blathering got on my nerves.' Then the other one started to tell 'Y can't lash out heavily no more When he's plastered, he isn't quick enough.no more. He has had his days.'
An other man joined them. He wore a very old-fashioned shabby winter coat. His long and straggly hair fell over the collar. His pale cheeks were hollow. The man was obviously an old junkie. One of the thugs asked him' How are you?' The junkie answered 'I feel lousy. Just saw the doctor.' The thug looked at him patronizingly and pitifully.
(My wife Christine helped me to translate the text. Thanks.)
(to be continued)
Encounters 5
Encounters 3
(English summary)
Encounters 2
(English summary)
Encounters 1
(English summary)
The next issue 'The Daily Groove'
Thursday, April 13 2006

&lt
previous issue
next issue
&gt
We would like to point out that we translated articles from German into English for the purpose of service. We would like to make it clear that the German translations are deciding, because the articles are directed to users who live in Germany.
Wir möchten darauf hinweisen, dass wir zu Servicezwecken englische Übersetzungen vorgenommen haben. Klarstellen möchten wir, dass maßgeblich die deutsche Übersetzung ist. Grund dessen ist, dass wir uns an in Deutschland ansässige Nutzer wenden.
Please also read
Cats Talk (30)